Instantly Shine, Protect, & Shield Your Vehicle...
Without Breaking The Bank
Highest Legal Limit Of Ceramic Coating Available
Works On All Vehicles And Motorcycles!
100% Satisfaction Guarantee
Proudly Made In America
FAST 3 Day Shipping From Our American Warehouse

"
One of the best products I've ever used! Easy application and the product lasts! Thank you flowgenix team!
"
Leslie S.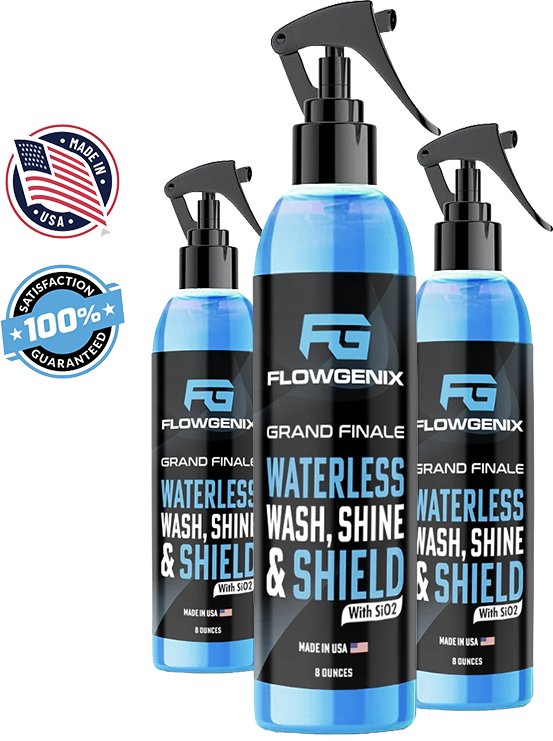 Are You Ready For Showroom Shine!?
Join the 10,000+ Happy customers who are already getting the glossiest,deepest shine and lasting protection from applying Flowgenix Grand Finale™ to their Vehicles!

Gives Your Bike/Vehicle A Glass-Like Shine
Patented polymer-based formula bonds to paint coating giving your bike a glass-like shine. You can even use it on denim/matte paint without ruining the look!

Prevents Water Spots and Repels Bugs, Dust and More
Designed to be hydrophobic and repel water and other elements from coat.

Easy and Effortless
Just spray on and buff with a simple microfiber towel. No elbow grease needed. Never use your wash, wax, polish & seal products again.

Protect Your Bike For Up to 6 Months
Our ceramic spray has been rigorously engineered to be 20x stronger than the leading wax's and sealants on the market! Our Sio2% is more than any other competitors which makes our solution last MUCH longer!
Why You Need Flowgenix Grand Finale™...and Why People Will Be Jealous!
MADE IN THE USA
We offer a 30-Day No B.S. 100% Money-Back Guarantee. If for any reason you don't like the product, we'll refund you 100% of your purchase price within 30 days of purchase..
Instant Shine & Protection In Minutes! NO Hose, NO Buckets!
Formulated in the U.S. by Pro Detailers
1000+ Verified Reviews (5 / 5 Stars)
20X STRONGER than any sealant or wax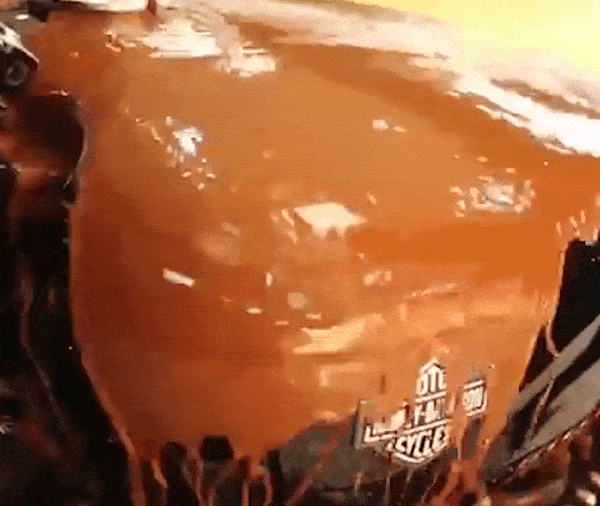 Flowgenix VS Competitors
See below why Flowgenix is the hottest detailing product on the market today!

Others
ECO-FRIENDLY

LAB-TESTED NANOTECHNOLOGY

HYDROPHOBIC (WATER-REPLLENT)

REMOVES DIRT, DUST & GRIME

PROTECTS PAINT FROM UV RAYS

SMEAR & STREAK FREE

NO TOOLS NEEDED

SUPER GLOSS SHINE

LASTS UP TO SIX MONTHS

100% GUARANTEE

---

What People Say About Us

Shane S.
"Very impressed with this stuff , goes a very long way and the coat lasts a long time as well . Makes the dust super easy to wipe off without leaving scratches and bugs wipe clean off saving me so much time on a clean . Will never look back after getting this , I don't usually leave reviews but this stuff is more than worthy of one ."


Alexis F.
"I spent 2 hours on my 2005 Harley Davidson Road King Custom in the early cool morning and it came out like a showroom condition with this excellent product . I touched the paint and it's very smooth and I can see the reflection of my beaming smile. I highly recommend it because it's a 5 stars rating !"


Ricky H.
"It's an ok cleaner, the down side is that it's a two step process, would be better if it was just spray and wipe. I also use a aerosol spray made by Honda and I love it, it's just a spray on wipe off and it's a heck of allot cheaper."


Rodney S.
"Make the paint and chrome look amazing in the sun and makes my bike look great"

Frequently Asked Questions
How is Flowgenix different from the other popular brands out there?
Flowgenix Grand Finale Waterless Wash is specially formulated to create a slick, glossy finish and protect your finishes from contaminants like dirt, debris, bugs, and water spots. Due to the level of SiO2 in our custom formulation it also creates a Hydrophobic layer that repels water for months. Ordinary waxes and paint sealants are old technology and don't offer the same level of innovative protection and wash that we do. Old products only shine and protect your vehicle for around 1-2 weeks where Flowgenix protects your vehicle for 6-12 months.
How does Flowgenix Waterless Wash clean a bike without using water?
Through a complex formulation of soaps, wetting agents and a ceramic/SiO2 emulsification process, Flowgenix is able to lubricate dirt and grime particles. Once the dirt has become liquefied it just sticks to your microfiber cloth.
Does Flowgenix work on matte and denim paint?
Absolutely!! We have a TON of customers who have used it on their Matte/Denim paint and claim to LOVE it! It will not affect how the paint looks! It will only make it look brand new again!
What surfaces can I apply Flowgenix to?
Flowgenix is super effective on all surfaces, including paint, plastic, rubber, glass, chrome, matte/denim, stainless steel, plastic, headlights, and even your helmet!
How often should I use Flowgenix on my Vehicle?
Flowgenix can last up to 6months! however, you may apply it as you please.
Does Flowgenix hurt the paint on my Vehicle?
No, Flowgenix actually works as a sealant creating a protective layer between your paint and your bike to help prevent other damages.
Instantly Shine, Protect, & Shield Your Vehicle...
Without Breaking The Bank

"
One of the best products I've ever used! Easy application and the product lasts! Thank you flowgenix team!
"
Leslie S.